HOME
GET VERSION 0.97
- windows install
- self-ext. zip
INSTRUCTIONS
F.A.Q.
SCREENSHOTS
2D ORIGINAL
HELP WANTED
LINKS
NEWS & UPDATES
jase@bucketweb.com
feast your eyes on these screenshots of version 0.97. you can see the new lava pit, the bigger scoreboard, and a few of the new powerups. there is a second page of screenshots, these images are BIG though, so download at your own risk :)

here the new "stop" powerup is in effect. when the red bar runs out, the blocks will start moving down into the lava again.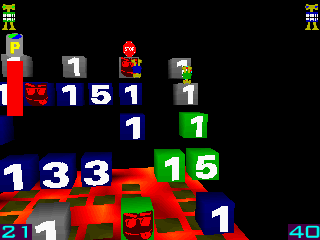 here, the green player has the "paint" powerup, and is coloring the blocks bright green. the blue player cannot change these back to blue.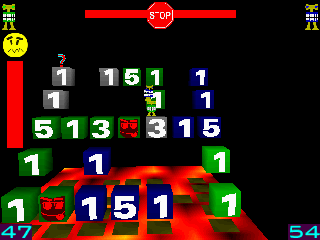 here the green player has the new "confuse" powerup, and is about to catch the blue player with it.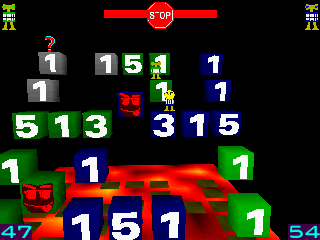 and here, he has caught the blue player, who has the "confused" face stamped on his head. the effect is short-lived, but while in effect, the direction keys for the blue player will move him in the wrong direction.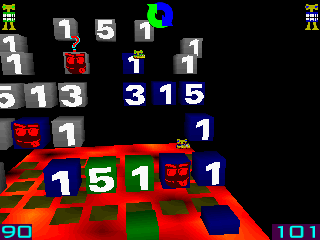 here, the green and blue players are switching places. one of them jumped on a 'switch' powerup, which is shown at the top.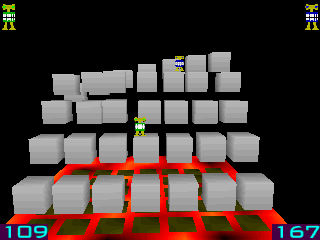 here we have reached the end of the level (five 'painted' rows with no numbers). you can see the start of the ending animation here, where all the blocks except for the winner's will 'cascade' out of the level. since the blue player has more points, he wins, and green will get dropped in the lava... see more screenshots